---
The Martinez family
---
Whilst doing the research for the Orland side of our family tree, we were rather lucky and extremely grateful to find that a lady named Joan Holness (formerly Martin) had already gathered together a huge amount of information on my mum's father's line of the family, the Martinez, going right back to the beginning of the 1700s. The oldest record of this name was for Jose Nunes Martines marrying Sara Nunes Cardoso on 21st October 1711 at Bevis Marks Synagogue. (Note: Jose's surname was spelt with an "s", but subsequent generations appeared to end the name with a "z". The reason for this is unclear to me at this time.)
My small contribution to this was to find the marriage record of Sara's parents on the familysearch.org web-site. Moses Nunes Cardoso married Rachel De Chaves in April 1697 taking our history back into the 17th Century.
For around two hundred and fifty years, the majority of the Nunes-Martinez family stayed resident in London. The Bevis Marks Spanish / Portuguese Synagogue appears to be the place where their ceremonies were carried out.
The records that we have show three children born to Jose and Sara - Abraham, Moses and David. Rather nicely, these brothers married Abigail, Ribca and Sarah Rodrigues Ribeiro respectively - a happy case of three brothers marrying three sisters!
Moses and Ribca were married in 1736, and they in turn had three sons:
Joseph married Sara Saqui in 1764, and they are my great-great-great-great-great grandparents!
(For those who are interested in trivia, a learned friend and former colleague of mine informs me that the name "Saqui" means "the one who serves the wine".)
Joseph and Sara had seven children and they were:
Moses
Abraham
David
Isaac
Jacob
Hannah
Mordecai
It was the third son, David, who carried on our line of the family with his wife Sara (formerly Vitta), whom he married in 1792. After twenty years of marriage Sara died in 1812, a year after bearing their tenth child, Isaac.
In 1830 aged 58, David re-married, and his new wife, another Sarah, (formerly Mendoza) gave him another five children.
From David's first marriage, their third child, Joseph, married Masaltob Levy (known as "Lucy") in April 1815, and had seven children.
The first of these was also named David, who married Frances Gomes Da Costa (known as "Fanny") at Bevis Marks in 1853, after which they moved to New York where they had their first four children in Brooklyn. However, after moving back to London some time between 1860 and 1862, they had four more children - Benjamin (3rd Nov 1862), Aaron (7th Oct 1866), Deborah (18th May 1868) and David (23rd Oct 1870).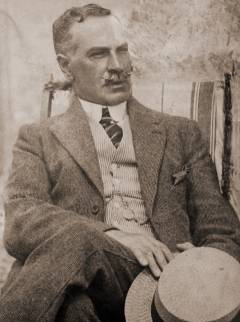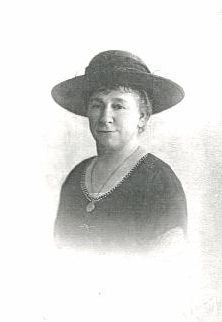 Here is Benjamin Nunes Martinez, born in 1862, and his wife Rose Saunders, whom he married on 12th June 1889. He was also known as "Ben Martin", and these photos were taken in the early 1900s.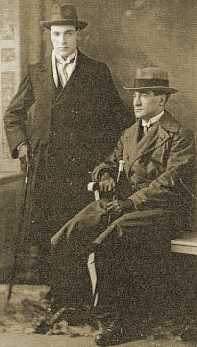 Ben and Rose had seven children:
David, 1890
Felix, 1891
Arthur, 1893 (pictured right, seated)
Baron, 1895 (pictured right, standing)
Emanuel, 1897
Frances, 1900
Hannah, 1902
There is also mention of an eighth child, Margaret, but I have found no details about her.
Further reading:
Brian Whipp has put together an extensive website, categorising in detail many members of the Martinez family. He has particularly researched in depth Felix Martin, son of Benjamin and Rose, and some of it can be found on this site: https://www.whippfamily.co.uk/FH%20Website3/fam1484.html
A far more detailed view of the immediate family of Felix Martin, also compiled by Brian Whipp, is on display here: https://whippfamily.co.uk/Felix%20Martin%20Life.htm
Martinez/Martin
There has long been some issue about when the name "Martinez" became shortened (or Anglicised?) to "Martin". Although Ben (1862) and his siblings were listed by the General Register Office under the name Martin, it wasn't to become a trend, and Ben subsequently reverted to using "Martinez" for all of his own children - his death certificate also recording him with the full "Nunes Martinez" name. Ben and Rose's son, Arthur (1893), followed by his son, Dennis (1920), were in turn passed the traditional "Nunes Martinez" names, which Dennis still used when he got married to Vera Walker in 1947, but took the shortened name of Martin before having the first of their eight children.

Arthur was my granddad, and in 1919 married Hetty Miller. Arthur and Hetty had five children:
Dennis
Barbara
Daphne
Roy
Jeanette (my mum)
Sadly, Barbara died of pneumonia as an infant and in 1940, soon after the outbreak of the Second World War, Hetty and Arthur moved away from London and brought their four children here to live in Coventry.
The Martin families in both Coventry and London survived the war, although Hetty's mum, Miriam, died in 1949 aged 78, predominantly from injuries sustained during the London bombing a few years earlier.
Daphne's happy life was tragically cut short in 1956 at the age of just twenty eight after a road accident, but Dennis and his wife Vera (formerly Walker) carried the Martin line forward with eight children, eighteen grandchildren and so far, twelve great grandchildren.... and counting!