---
The Crofts family
---
From the 1700s (and possibly earlier) through to the present day, many of the Crofts family have lived in the village of Crick just two and a half miles away from West Haddon and Winwick where the Orland family was evolving during the 1700s and 1800s. The two families would become related in 1939 through the marriage of William Orland to Elsie Crofts. (My grand-parents.)
Below is St. Margaret's Church in Crick where many of the Crofts family had their ceremonies.
The oldest Crofts record that I have linked to our family line so far is of John Crofts, baptised 1766 in Crick. In 1780 he married Elizabeth Underwood, born the same year - and both seemingly only 14 years of age!
In 1790 they had a son, Joseph, who married Sarah Salsbury. Joseph and Sarah's children were all baptised in Crick as follows:
Thomas - baptised 4th August 1811
John - baptised 12th June 1814
Henry - baptised 19th May 1816
William - baptised 1818
Elizabeth - baptised 23rd September 1821
Richard - baptised 1824
Joseph - baptised 1826
Ann - baptised 1829
From these offspring, my great great great granddad was John Crofts, 1814.
In 1838, he married Mary Lee (born in Crick, 1816) and they had seven children:
John - 1839
Sarah - 1841
Elizabeth - 1842
Charles - 1848 Married Martha Underwood, moved to Michigan, USA, and continued the family there.
Thomas - 1851 (My great-great granddad.)
William - 1851 (A twin brother to Thomas.)
Alfred - 1854
---
For many of the above facts, I am very grateful to several kind people, all of whom have turned out to be distant cousins! In particular I would like to thank; Jane Aires, Wendy Monaco, Chris Donaldson and Sheila Dixon (nee Crofts) for their generous and helpful contributions to the Crofts family tree.
---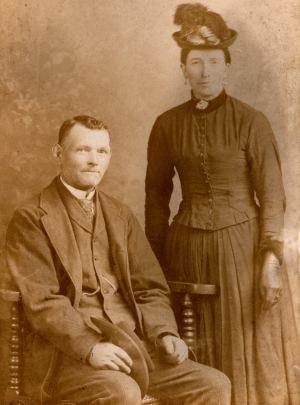 In 1873, Thomas married Sarah Jane Crisp and had five children of their own:
Annie - 1876
John - 1878
Sarah - 1880
Edith - 1883 and.....
Albert - 1885 - My great grandfather, pictured on the right with Letitia (formerly Cook) whom he married in 1910 at St. Peters, Coventry, where they continued to live and raise their family.
Close inspection of the photograph appears to show an absence of wedding rings so it would suggest a pre-1910 sitting. (Possibly an Engagement photograph.)

Letitia Cook was one of nine children. Her Grandfather, Thomas Cook, married Ann Calven in Sundon, Bedfordshire in 1835, and had a son named James in 1837. In 1871 James married Letitia Ellis, daughter of William and Mary Ellis (formerly Woodard) from Harlington in Bedfordshire. Their nine children were....
Ellen
George - 1874
Mary - 1876
Annie - 1879
John - 1883
Letitia - 1887
Ada - 1891
Elsie - 1893
Frederick - 1896
My Grandmother Elsie was the third of seven children born to Albert and Letitia, but sadly, two of them (Dorothy May, born 1913 and Bernard James, 1920) died before reaching their second birthdays.
Pictured below are the five sisters who survived to live long and happy lives.
Here in 1916 is a two year old Elsie
with her five year old sister Mabel
and a very young Gladys on her mothers lap.
Later in June 1931, a lovely portrait of the two younger sisters:
Daisy aged ten and a
three, going-on four year-old Violet, seated.